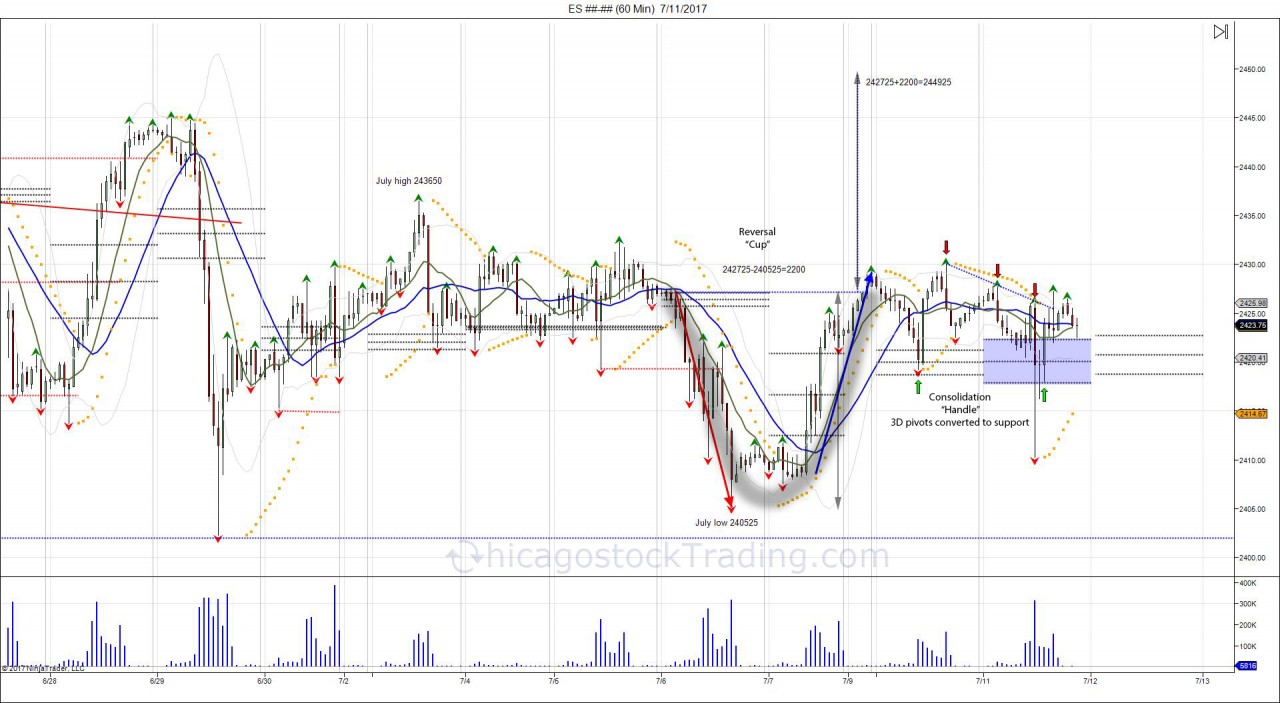 On Thursday of last week, the market sold down to a low of 240525, which successfully tested and held the June low. Friday saw the market overcome the 3D pivot range resistance to reverse the negative momentum. This reversal allowed Monday and Tuesday's 3D pivots to turn into support. Both days saw the market chop sideways into awaiting for Janet Yellen on Wednesday. This in turn, creating a cup/handle pattern, with room to expand into 2449 on a break through 2427.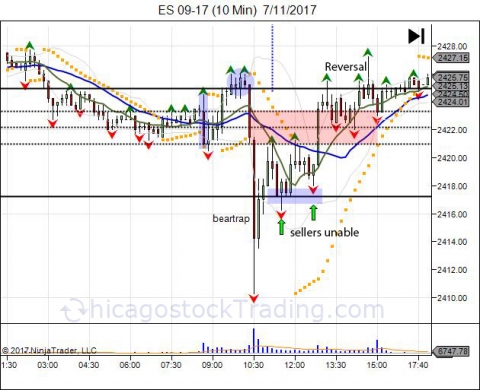 Tuesday saw the market flush into a low of 2410 after the news regarding "Donald Trump Jr.". The break shook out longs below last Friday's 2412 cash low, seeing an attempt to fill the gap from Thursday at 240975 before turning off a low of 241025 to bounce back to the open. Shorts lured in under 2417 were caught trapped as they failed to expand below on 2 tries, seeing offers lift through the intraday pivots that left shorts trapped and setup an intraday reversal through new highs on the day. This was not good for shorts caught on Tuesday going into Wednesday...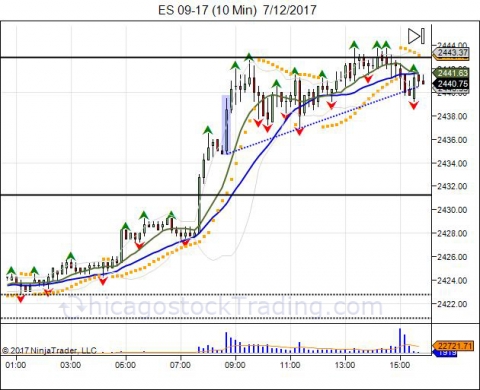 Wednesday seeing the market break through 2430 on the release of Yellen's testimony transcript, using shorts from Tuesday and last week to fuel a run through the month high of 243650. Notice majority of the move took place in the Globex session as the cash market opened 2435, forcing shorts to cover and the cash market to pay a premium.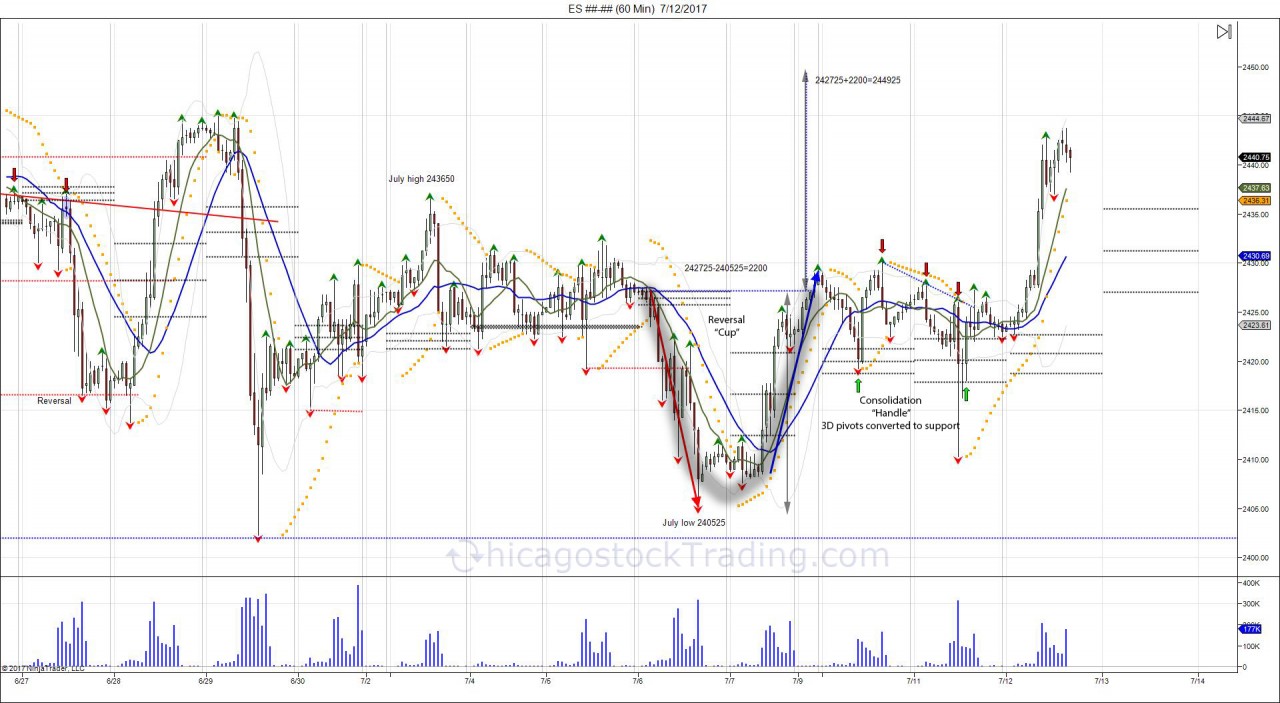 Breakout seen on hourly chart through 2427, giving way to expand up to 2449. High of 2444 was made before settling at 2439.75. Thursday's 3D pivot range is now below the market within 2435.50-2427.00, to provide underlying support for longs to defend the current breakout. Failure to hold the 3D pivot range and a close below is needed to reject the breakout attempt and to leave longs on the hook.
As seen in the cash chart above, Tuesday's break seeing a successful test and hold of last Thursday's close. Bounce back to 2424 left shorts on the hook. On Wednesday, by opening above 2424 resistance at 2435, shorts are caught trapped and buyers are forced to pay the premium. The cash market traded in a narrow range of 2434.75-2443.75.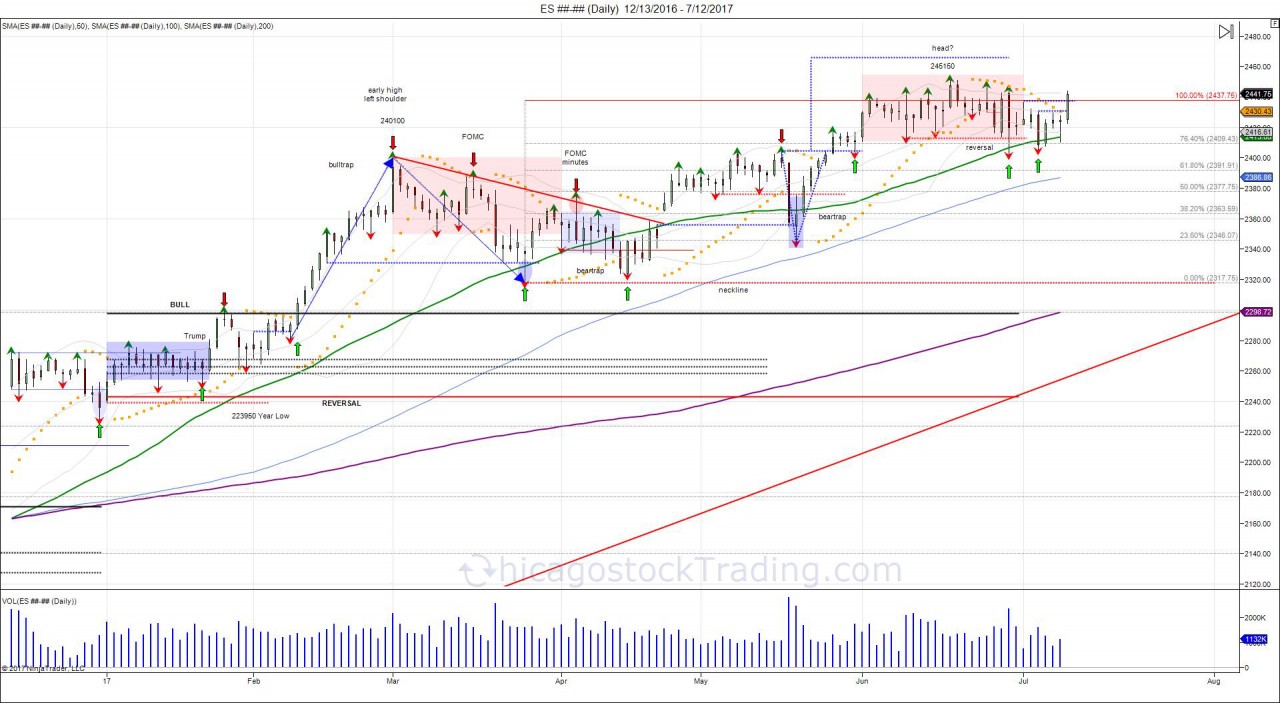 Wednesday (Yellen) snapping through the series of lower highs, squeezing shorts and setting up a breakout opportunity. The squeeze higher, gives buyers another opportunity to test and go after the ATH. Going forward pullbacks into the old resistance of 2432-2428 is an area for buyers to convert into support. Failure to hold this support and a break below last week's low is needed to reject the current breakout attempt.
Receive daily intraday & 3D pivot pivots, vol windows, and trade analysis by signing up here: http://www.chicagostocktrading.com/membership.html
RISK DISCLOSURE: PAST PERFORMANCE IS NOT INDICATIVE OF FUTURE RESULTS. THE RISK OF LOSS IN TRADING FUTURES AND OPTIONS IS SUBSTANTIAL AND SUCH INVESTING IS NOT SUITABLE FOR ALL INVESTORS. AN INVESTOR COULD LOSE MORE THAN THE INITIAL INVESTMENT.