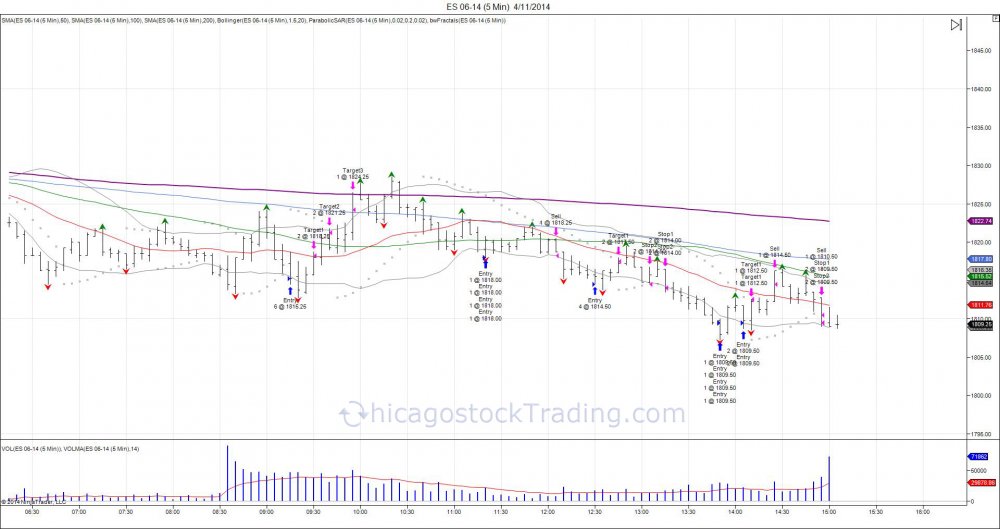 Buying the SP500 today with the market breaching the March 182350 lows to open at 1816 was not an easy task, nor was it impossible. The market provided opportunities intraday for longs to defend. The cash opened at 1816, followed by a squeeze through 1821 to establish a bullish intraday bias which was followed by a shakedown to the reversal window at 181275, offering buyers an opportunity to defend. This new low and test of reversal window failed to continue lower, seeing a squeeze back through session highs and up to 182850 to test major resistance off the overnight highs of 1832. Failing to get through, the market retraced lower to retest the 181275 session lows which was followed by a small bounce up to 181950. This bounce failed to push through resistance and regain above 1822, seeing sellers take control (read post: Running out of buyers?) and take out the session lows to fall into 180725, squeezing out session longs and luring in late sellers below 181275. This new low was followed by a bounce up to 181650, once again failing to push through resistance before falling back to 180950 into the close and settling at 181175.
With the market settling 15.50 handles from Thursday's close, actively day trading the SP still allowed to collect 32 handles on all LONG trades. It is always more aggressive to go against the tape, however if risk is defined and reward opportunity is healthy, a day trader can trade any tape long or short.
Below is the AIM feed sent out to Chicagostock members.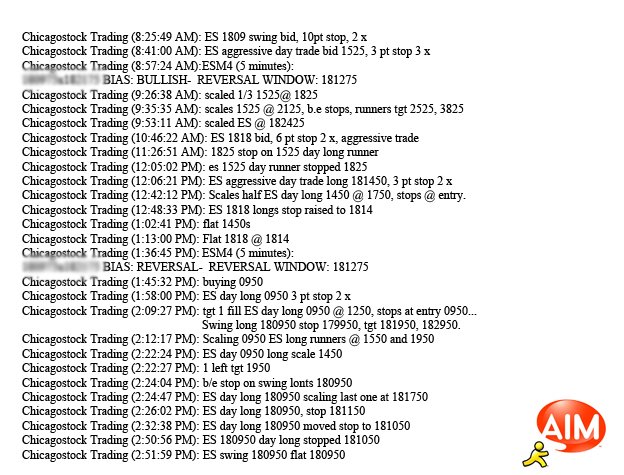 Members receive signals VIA AIM and view signals on shared screen by Chicagostock, seeing signals work live with the market. Traders can trade along these signals if they agree with the trade and risk.
RISK DISCLOSURE: PAST PERFORMANCE IS NOT INDICATIVE OF FUTURE RESULTS. THE RISK OF LOSS IN TRADING FUTURES AND OPTIONS IS SUBSTANTIAL AND SUCH INVESTING IS NOT SUITABLE FOR ALL INVESTORS. AN INVESTOR COULD LOSE MORE THAN THE INITIAL INVESTMENT.