The bond market showed signs of reliance late last week as the SP500 printed new highs early Friday, yet bonds stabilized to create a base from those lows printed on Thursday at 14024. Friday's action saw lows of 14105, testing and holding the range from Thursday's lows, and in turn building a right shoulder for an inverted head/shoulder pattern as aggressive buyers were using this as an entry with stops below Thursday's lows. The move on Friday squeezing through the neckline of 14121 confirmed the inverted head/shoulder and rewarded buyers down to 14105. This range of 14121-14024 gave an upside target of 14223 to complete the expansion of the inverted head/shoulder. As the market held above this neckline on Friday, it consolidated after taking out the 14129 high made on NFP day and in turn this consolidation created a bull flag as seen in the hourly chart, also projecting 14223.
All of this technical analysis confirmed Sunday night as the bond market opened higher at 14210 and squeezed to complete the target of 14223. The catalyst for this, 'news' out of Cyprus putting a tax on bank deposits. Price action always precedes news as one cannot predict when news comes out, however they can use price action as the roadmap to guide where they can defend levels and where the market can go.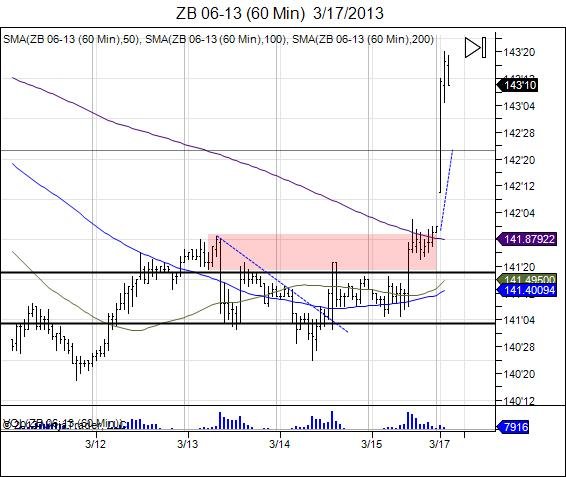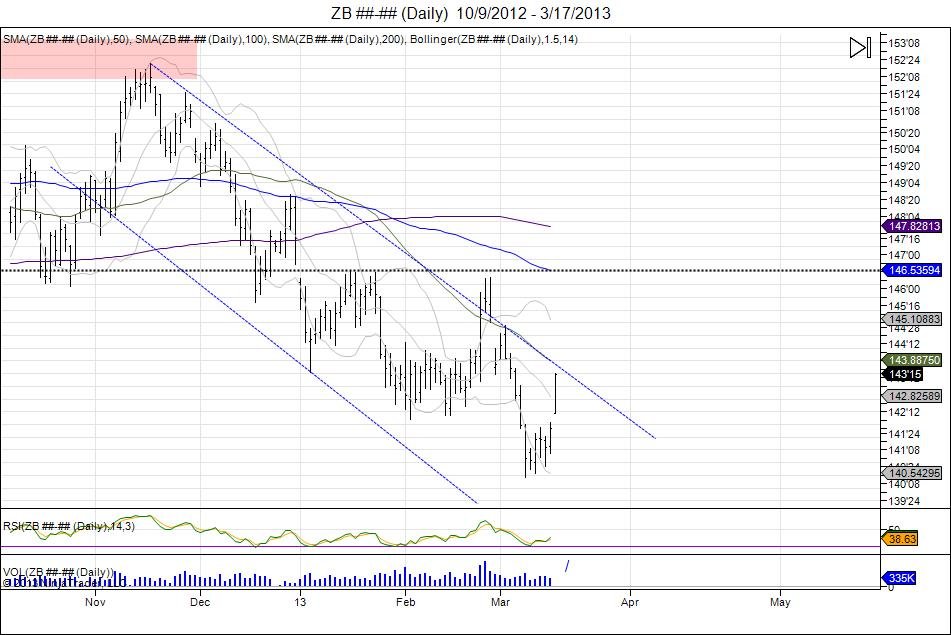 Looking at the bigger picture, the bonds breakdown below the prior lows of 14205 from February after squeezing to 14611 and failing, are now attempting to create a failed breakdown and a "head" for a larger inverted head/shoulder bottoming pattern. To set this up, the bond market must run through that old high of 14611 to confirm the breakdown to 14014 as a failed one and in turn squeezing out short sellers. Following a move like this, traders/buyers can then look for a retest of the "head", lows down to 14200 to offer an opportunity for entry and to defend that range. This in turn will setup the opportunity to create a right shoulder for an inverted head/shoulder bottom attempt.
Bloomberg: Europe Braces for Fresh Turmoil With Cyprus Deposit Levy
Sign up to two weeks free trial to watch Chicagostock Trading in action.
RISK DISCLOSURE: PAST PERFORMANCE IS NOT INDICATIVE OF FUTURE RESULTS. THE RISK OF LOSS IN TRADING FUTURES AND OPTIONS IS SUBSTANTIAL AND SUCH INVESTING IS NOT SUITABLE FOR ALL INVESTORS. AN INVESTOR COULD LOSE MORE THAN THE INITIAL INVESTMENT.